Roller derby is a full contact women's sport on roller skates. Q.E.D.
Okay, so seriously… I play roller derby because I hate the gym and I dislike repetitive exercise. I need some strategy with my sweat, probably to distract me from the sweating bit… Roller derby is a sport where you have to juggle offense and defense at the same time which keeps it interesting.  Exercise which doesn't feel like your exercising – my kinda active 😛
Roller derby is empowering, it doesn't depend on a certain body size or shape. It's very inclusive and there is a great sense of community. It also supports traits that are not always promoted for women. We encourage leadership on the track. And I'm competitive – like REALLY competitive, and that's allowed, its respected, encouraged, heck even celebrated on track.
Then there's the teamwork. I didn't play team sports growing up so have only recently discovered the truth about together you achieve more.  There is nothing quite like the feeling of working with others to achieve a common goal, and its even better sharing the moment of success when you complete it (or did your darndest trying and are proud anyways).  That's not to say nailing a tricky bit of footwork or having a stellar individual moment on track isn't enjoyable, the teamwork aspect provides another layer of frosting (the nice kind, not one with undissolved sugar crystals).   Victoria actually has the number one Women's Flat Track Roller Derby team in the world! (Check them out here: www.vrdl.org) Yep – you read that correctly – THE WORLD.  And that's not my team – we're around 300 (check us out here: www.southsearollerderby.com) and that ranking doesn't limit us.  We never give up. When we're beaten up, literally, beaten up on the track and on the scoreboard, we treat every jam as if its the first jam and the score's back to zero zero.  Part of team chant is 'fight' and that's about never giving up irrespective of the score whether we're ahead or behind. We play because we enjoy it and take the time to celebrate the small successes.  You can't be upset with the outcome if you gave your all on the track.
Oh and roller derby is one of the only women's sports without a prefix. There's men's roller derby, junior roller derby and roller derby and that's pretty cool.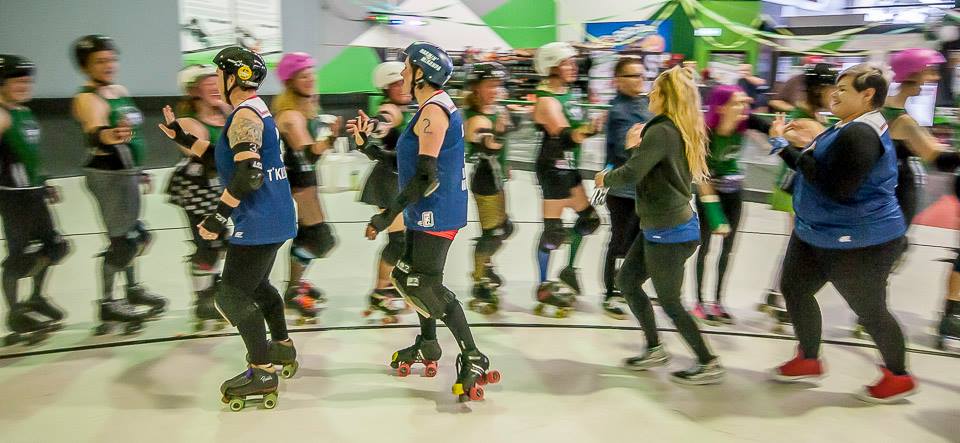 If you want to find your local roller derby league to participate checkout the Skate Victoria website.  And don't worry, you don't have to have been a speed skating champion in your youth and you're not thrown onto the track straight into gameplay.  The initial training is all about stopping, falling and basic skating skills and then increases intensity with your increasing abilities and confidence.  For a quick primer on gameplay I like http://badfishrollerderby.com/rules-of-roller-derby-flat-track/
For some goosebumps, checkout this inspiring video by the amazingly talented Photographic Storm 
Share your story to support, encourange and inspire each other at thisgirlcan.com.au and you could be selected for the This Girl Can Victoria campaign launching in early 2018.  To connect with the This Girl Can Victoria community, use:
[dropcap type="square"] M [/dropcap]iranda
This Girl Can by VicHealth encourages women to get active: "This Girl Can celebrates women who are all kinds of active. Women who are giving their all, or giving it a go, but not giving a damn!" I am a This Girl Can Victoria Ambassador. However, the views expressed here are my views only and not those of VicHealth.